U.S. Gross Domestic Product which measures the output of all goods and services approximates $21.5 trillion annually. Of that, consumers, you and I, account for nearly 70% of total output. So, if household spending is our nation's primary driver or economic growth – how indebted is the household sector as a percentage of income?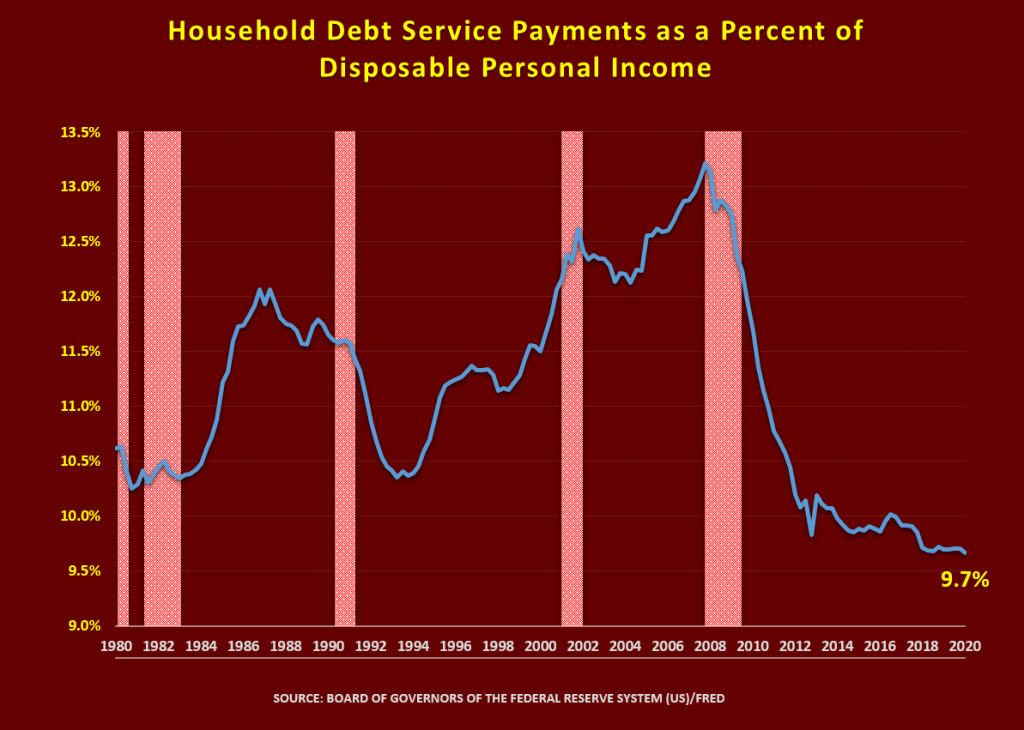 Ironically, despite the destruction stemming from Covid-19, households are in their best financial shape in decades to meet their obligations and to weather the storm. As depicted in the chart, the Financial Obligations Ratio is currently 9.7%. The Financial Obligations Ratio includes rent and mortgage payments, auto lease installments, homeowners' insurance, and property tax expenditures.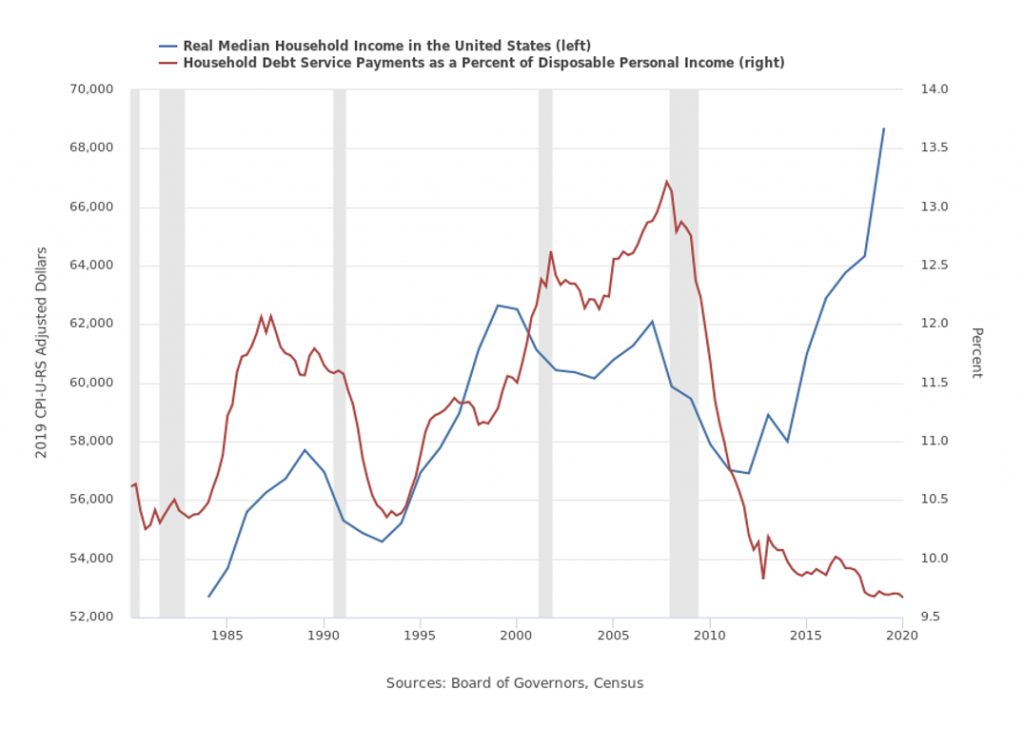 The Federal Reserve closely monitors the financial health of the American consumer and acts expeditiously to keep our way of life as surefooted as possible. 2020 has proved to be anything but normal, yet still, the Fed's monetary policy coupled with Washington's unprecedented stimulus has been received favorably by Main Street and Wall Street. I applaud our elected officials for keeping the United States out of a deep depression.
Important Disclosures
Any views, thoughts, and opinions pertaining to the subject matter presented in this post are solely the author's subjective opinions and do not reflect the official policy or position of 1st Discount Brokerage, Inc. Information is for educational purposes only and does not intend to make an offer or solicitation for the sale or purchase of any specific securities, investments, or investment strategies. Investments involve risk and are not guaranteed. Past performance is no guarantee of future results. Any examples, outcomes, or assumptions expressed within this article are only hypothetical illustrations and should not be utilized in real-world analytic products as they are based only on very limited and dated open source information. Dollar-cost averaging, diversification, and rebalancing strategies do not assure a profit or protect against losses in declining markets. Asset allocation and diversification do not ensure or guarantee better performance and cannot eliminate the risk of investment losses in declining markets. Assumptions made within the analysis are not reflective of 1st Discount Brokerage, Inc. nor its personnel. 1st Discount Brokerage, Inc. is a licensed FINRA broker-dealer and Registered Investment Advisor. Securities offered through 1st Discount Brokerage, Inc., Member FINRA/SIPC.